Search Engine Marketing
Reading Time:
1
minute
When starting a business these days, one quickly encounters how challenging it is to reconcile a business name and the available matching .com domain that passes the radio test.
If you like most business owners, then you've likely not heard of the domain radio test or understand the importance it plays to your business and its digital presence.  Continue reading →
Reading Time:
2
minutes
A little over five years ago, I accidentally stumbled upon something that forever altered my domain development experience: geo service domains.
Sometimes categorized as exact-match or partial-match domains, I encountered a geo service domain via GoDaddy's expired domain buy-it-now/closeout auctions for a suburb of the greater Austin, Texas metro.
Although Google had issued an exact-match domain update that devalued and slightly lessen the ranking of exact-match domains, I decided to take a chance on developing my newly discovered geo service domain.
Little did I realize my development and SEO prowess would produce a page one ranking geo service domain website.
Years later, and many new and existing domain investors still question whether or not geo service domains are worth investing in.  That's the question will attempt to answer in today's podcast. Continue reading →
Reading Time:
4
minutes
Not much has changed with the domain name search experience since the early days of the internet.
The process in and of itself is timeless in general. I mean, a person either has a dream or idea about launching a website of some sort, and they visit a domain registrar of their choice to verify domain availability.
If the .com domain is taken (which is highly likely these days), then searchers likely append or prepend words or letters, in some cases they add hyphens or dashes, or get cute with adding or removing an assortment of letters to create a brandable domain.
Nevertheless, searchers spend quite a bit of time searching and hoping their domain of choice is available while using a less than stellar domain name search user experience.
While attending NamesCon 2018, I attended a Tools Talk (Why Searching For A Domain Name Sucks) given by Tony Kim, Chief Marketing Officer of Hexonet, that outlined Hexonet's three-pronged strategy for transforming the future of the domain name search experience.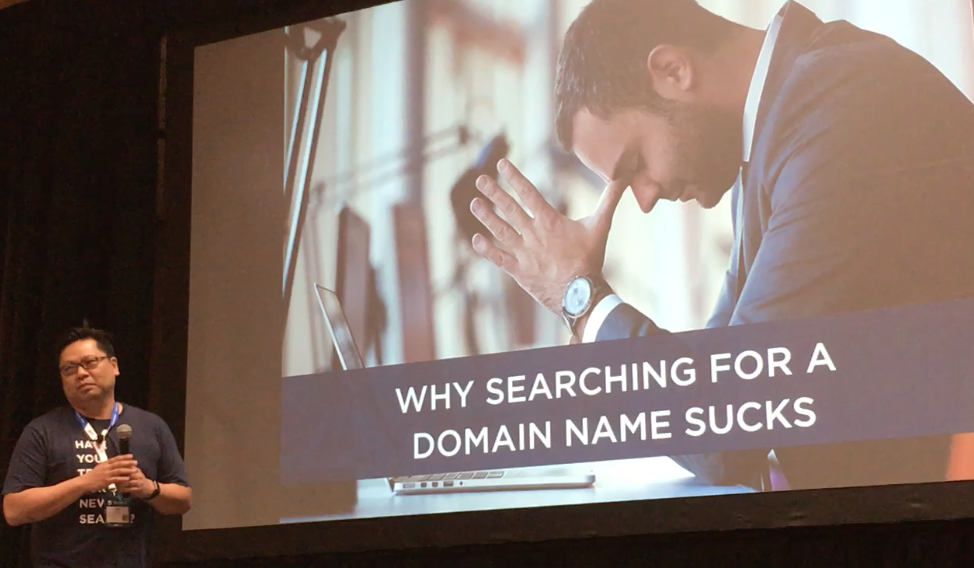 Reading Time:
10
minutes
One year out, and another year in! And with a new year, brings a slew of new domain investing opportunities and perspectives to explore.
Over the last 6 months or so, I've shared a number of domain interviews from technologists to designers to entrepreneurs to investors to marketplaces and more…
Picking up from where we left off last, one of the latest opportunities to take hold in the domain industry are emoji domains.
Until now, most interviews I've covered have highlighted independent investors or traders investing in emoji domains. Continue reading →
Reading Time:
3
minutes
Have you ever wondered how to track online ad or link traffic from external websites to your website using Google Analytics?
Tracking online traffic, web traffic in general, is often a topic causing many persons to glaze over, literally and figuratively.
Truth is tracking web traffic is quite simple. In fact, you encounter trackable links daily as you use the web to perform a variety of tasks, yet you may not have realized it upon first glance.
Nevertheless, there's no excuse today for website owners and operators to be in the dark on the origin of website traffic.
There are a growing number of non-paid and paid web analytics services available, varying in level of complexity, to help uncover where from and who is sending traffic to your website.
And although I won't cover all the the tools, there is a FREE and easy-to-use tool that allows you to track web traffic to your website. Continue reading →
Reading Time:
5
minutes
About a decade or so ago before Twitter and Facebook were the behemoths they are today, I launched, owned, and operated an emergency and disaster communications website aiming to help displaced folks re-connect to their friends and family in the time of natural or man-made disasters.
Back in those days, I was a one-man shop doing everything from graphic design, web design, coding and programming, database management, SEO, sale and marketing, and everything else under the sun.
One of the many things I learned and perfected was the art of writing customer-centric content that engaged, educated, and entertained the customer while also commanding search ranking results with the help of syndicated content. Continue reading →