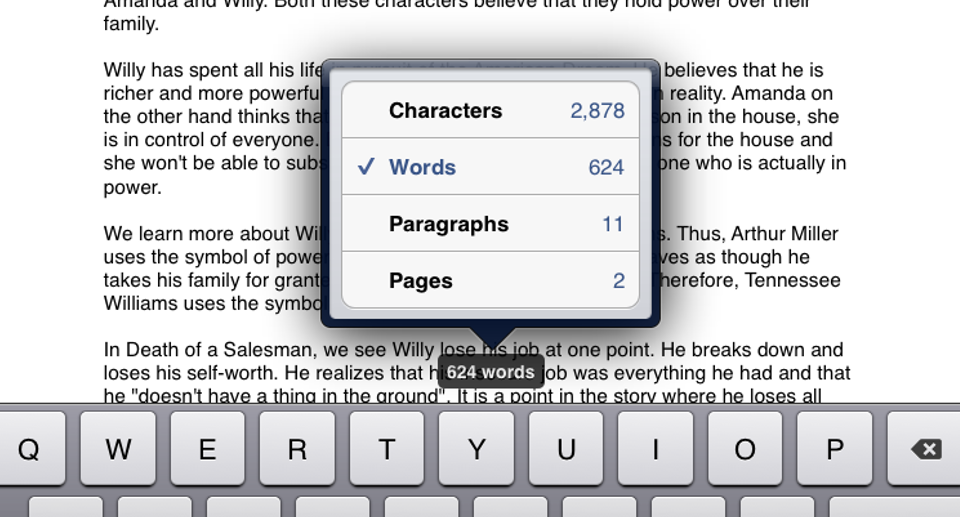 How to check word count in Apple Notes via iPhone and Other iOS Devices
If you're like me and you find yourself using Apple Notes via your iPhone to craft content (like this article you're reading right now!), then you're often wondering about the word count.
And if you're really diehard, then you'll be consumed with character count (with and without spaces), number of paragraphs, total line count, and estimated reading time too.
There are a number of paid and non-paid choices for discovering word count of content.
However, I'll share with you my favorite app when using Apple Notes to craft articles via my iPhone.
While you could easily copy and paste content into Pages, Keynote, or even Numbers to determine word count, each program can be quite challenging for the beginner and some intermediate folks.
But don't fear, simply let me introduce you to Words Count by Sarah Software Solutions, LLC.
[Editor's note – July 16, 2020: The app recently underwent an update and name slight name change 2 months ago — Word Count – Advanced Counter, but still produced by the same company with even better features than what are discussed below.]
This lightweight, free iOS app not only provides an accurate word count for your content, but also provides a today widget and action extension.
The today widget summarizes word count, character count (with and without spaces), number of paragraphs, total line count, and estimated reading time.
The active extension allows for Word Count to be integrated with most iOS apps and common word processor or editors native to iOS.
While you can use the Word Count app itself to craft content, be forewarned that it has a tendency to not save content. The good news is that Word Count does allow for sharing to Apple Notes.
So, you could start crafting or dictating content in Word Count only to transfer with ease to Apple Notes, Pages, or another editor of your choice.
That's likely a showstopper for some folks, but it's not for me due to favoring and using Apple Notes as my go-to editor of choice when crafting content.
And while you may sigh at the thought of having to add and learn another app to your phone to use, Word Count is totally worth it.
In fact, watch the quick video tutorial below (no sound) as I demonstrate how to display word count in Apple Notes using Word Count — one of the most simple word count iOS apps in the world.
Drop me a comment if you need additional apps or ideas to try, or a simple thanks for saving, if not adding, years back to your life. 😀