Search Engine Optimization Tools
Reading Time:
4
minutes
I received an email the other day from a customer that's been us nearly 15 years.
About a year or so ago, we served this customer by upgrading their website design and hosting as well as implementing SEO retainer services.
Most recently, in an effort to speed up and optimize website performance, we implemented the use of Cloudflare for the customer's website hosted via Bluehost.
If you haven't heard of or not using Cloudflare, then you are missing out on realizing greater website performance and increased boost search rankings.
I originally discovered Cloudflare and all of it's goodness from SEO Legend Bill Hartzer while attending DNHouston some time ago.
The reason I mention Cloudflare is because this is where my mind immediately was drawn to when receiving the customer's email about not being able to successfully File Transfer Protocol (FTP) to the web server. Continue reading →
Reading Time:
1
minute
There are countless carcasses littering the domain investing journey.
Folks often enter domain investing thinking it's nothing more than buying domains while sipping mai tai cocktails on a beach.
And if not that image, then the image is that domain investors purchase domains at standard registration fees on Monday, and flip them for 5, 6, and 7 figure sales by Friday.
Very few domain investors do either one of the farfetched lifestyle of domain investing.
In fact, most domain investors are quite diversified across the following domain investing categories: Continue reading →
Reading Time:
3
minutes
Today I'll share with you one of the best kept secrets to boosting search rankings while lowering a website's bounce rate.
Often times, websites are launched having a design and architecture of a Tesla while the content marketing and content itself has the power of a moped at most.
I'm often questioned about how to achieve consistent website search rankings across major search engines a few times a week.
From spinning content to private blog networks to paying less-than-stellar content writers for sub-par content, there are many methods to attempt to boost search rankings.
But one thing I've discovered across two decades and counting online about consistently ranking websites is that their content does the following: Continue reading →
Reading Time:
2
minutes
A little over five years ago, I accidentally stumbled upon something that forever altered my domain development experience: geo service domains.
Sometimes categorized as exact-match or partial-match domains, I encountered a geo service domain via GoDaddy's expired domain buy-it-now/closeout auctions for a suburb of the greater Austin, Texas metro.
Although Google had issued an exact match domain update that devalued and slightly lessen exact match domains' ranking, I decided to take a chance on developing my newly discovered geo service domain.
Little did I realize my development and SEO prowess would produce a page one ranking geo service domain website.
Years later, and many new and existing domain investors still question whether or not geo service domains are worth investing in.  That's the question will attempt to answer in today's podcast. Continue reading →
Reading Time:
4
minutes
Not much has changed with the domain name search experience since the early days of the internet.
The process in and of itself is timeless in general. I mean, a person either has a dream or idea about launching a website of some sort, and they visit a domain registrar of their choice to verify domain availability.
If the .com domain is taken (which is highly likely these days), then searchers likely append or prepend words or letters, in some cases they add hyphens or dashes, or get cute with adding or removing an assortment of letters to create a brandable domain.
Nevertheless, searchers spend quite a bit of time searching and hoping their domain of choice is available while using a less than stellar domain name search user experience.
While attending NamesCon 2018, I attended a Tools Talk (Why Searching For A Domain Name Sucks) given by Tony Kim, Chief Marketing Officer of Hexonet, that outlined Hexonet's three-pronged strategy for transforming the future of the domain name search experience.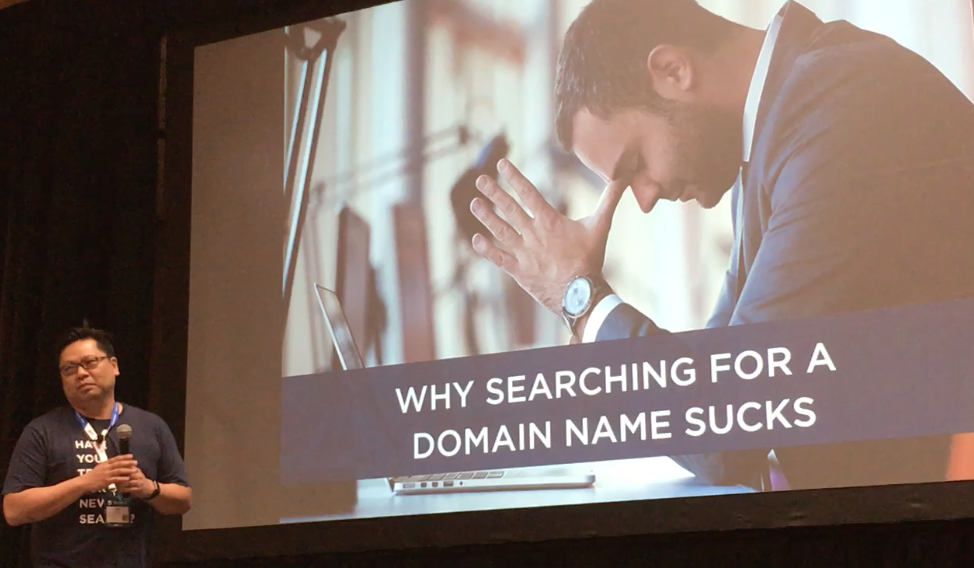 Reading Time:
6
minutes
You're likely reading this article because your web traffic has plateaued, or has yet to organically rank for highly competitive keywords.
Most everyone (okay, not everyone) knows the name of the game for bloggers or website owners is how much organic search traffic a website realizes.
If you've ever attempted to launch a website of any sort, then you've likely encountered the difficulties and challenges in getting your website to rank across major search engines.
I'm here today to change your unsatisfactory experience into one of satisfaction, and hopefully equip you to realize greater search exposure and traffic conversions for your website. Continue reading →
Reading Time:
6
minutes
A week or so ago, I introduced you to the Facebook Graph API using PHP.
Although the Facebook Graph API can be used to retrieve a trove of wide-ranging data, I specifically showed you step-by-step how to retrieve the total count for a unique URL's likes, shares, and comments.
Today, I'm going to show you the same, but this time using JavaScript and jQuery, a cross-platform JavaScript library designed to simplify client-side scripting of HTML. Continue reading →